HPE grew storage revenues three per cent year-on-year in the first 2019 quarter – the seventh quarter in a row that the company has increased revenues in this segment.
---
Storage revenues for the quarter were $0.98bn, accounting for 12.9 per cent of the firm's $7.56bn total quarterly revenues. As is usual with earnings calls, companies like to talk about what is going well and HPE is no exception.
in the earnings call Tarek Robbiati, CFO, noted 20 per cent revenue in all-flash arrays, with Nimble leading the charge. Big data was another bright spot, delivering 25 per cent revenue growth year on year.
It is reasonable to infer that some product lines are experiencing revenue falls, if all these technologies are doing so well and overall growth in Q1 is three per cent. For instance, HPE's 3PAR unit seems to be languishing in comparison with newer products.
CEO Antonio Neri said revenues grew significantly in high-margin technologies such as HPC, hyperconverged and the company's Synergy composable infrastructure, which is now a $1bn run rate business. HPE's hyperconverged portfolio with SimpliVity and Synergy grew 70 per cent, he added
That implies Synergy revenues in the quarter were $250m. Neri didn't separate out SimpliVity hyperconverged product revenues or their growth rate.
IDC said SimpliVity sales in the third 2018 calendar quarter were $111.5m.
Robbiati expects storage revenue to ramp and is targeting $1bn per quarter. This should be easily attainable, considering that was only $25m shy in Q1.
HPE and other storage suppliers
HPE's storage performance compared to other suppliers can be charted;
The chart shows Western Digital is the top supplier revenue-wise, with $4.23bn revenues i its latest quarter. followed by Dell EMC with $3.9bn. Our Dell EMC numbers only go back a few quarters which explains the short line. Seagate is third with $2.7bn in its most recent quarter.
Let's take these three out and look at the others in more detail: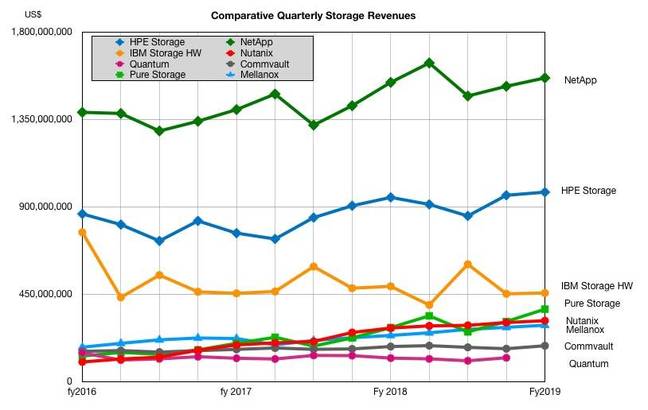 NetApp's latest revenues were $1.56bn, and it is comfortably ahead of HPE. It saw USA demand slow down in the quarter and the 2 per cent growth was less than its high-point guidance. HPE's 3 per cent was as guided and it saw no demand slowdown, especially not in the public sector, which was a NetApp weakness.
We also see HPE is comfortably ahead of IBM, Pure Storage, Nutanix, Mellanox, Commvault and Quantum. The IBM numbers are for storage hardware only and it has a storage software business, the Spectrum-branded products.
Big Blue does not reveal its revenues but we think it would send IBM's curve higher on the chart, possibly even matching HPE's. 
An earlier version of this article was first published on The Register.