Toshiba has added a high-capacity helium-filled 3.5-inch form factor SAS disk drive alongside its equivalent SATA product.
Like the SATA-using MG07 ACA, the MG07 SCA has with its 12 and 14TB capacities but uses a dual-port 12 Gbit/s SAS interface instead of the MG07 ACA's 6Gbit/s SATA link.
The MG07ACA has already spawned an MN07 NAS drive in 10TB and 14TB capacities. Both Western Digital and Seagate have 14TB helium-filled drive products and product categories spread out as the technology matures.
The MG07 SCA, which effectively replaces Toshiba's MG06 SCA air-filled drive with its 6Gbit/s SASA interface and 10TB capacity, is intended for 24 x 7 use. It is said to be 50 per cent more power-efficient than the MG06, and is rated for a 2.5m hours MTTF, 550 total TB transferred per year workload rating and 600,000 load/unload cycles.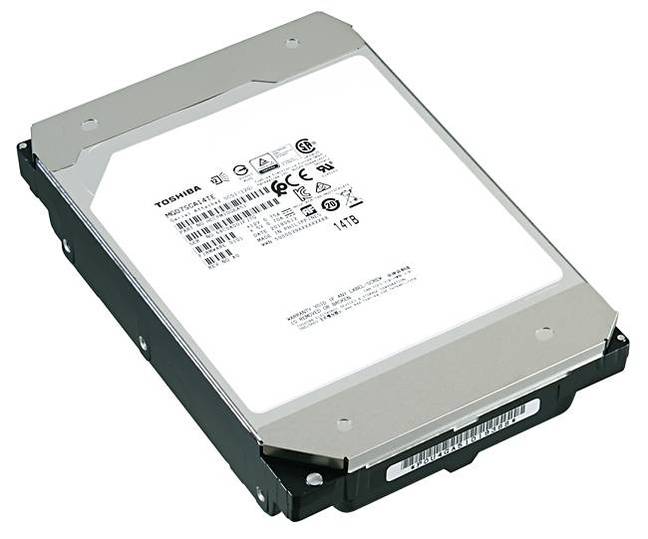 There are 9 platters in the 14TB product; we understand there are 8 in the 12TB model.
It comes with a 256MiB cache and transfers data at 242MiB/s at the 12TB capacity level and 248MiB/s at the 14TB level.
Now that all three drive manufacturers have 14TB products, and Seagate is anticipating shipping a multi-actuator 20TB HAMR-technology product in 2020 we ask ourselves if there will be one more capacity jump with current magnetic recording technology before then? Perhaps to 16TB? The manufacturers are not saying.
Toshiba's MG07 SCA drive is sampling now. You can check out a spec sheet here. B&F