Samsung has an X5 2TB portable SSD that can transfer data at 40Gbit/s, four times faster than USB 3.1's 10Gbit/s.
---
The drive is an update on Samsung's existing 2TB T5 SATA portable SSD which also has a 2TB capacity. It connects to its host with a cable plugged into a Thunderbolt 3 port, and only a Thunderbolt 3 port.
Sammy says "Thunderbolt 3 delivers 40Gbit/s for blazing fast data transfer."
It says the drive uses NVMe flash and, we understand, NVMe is being used across Thunderbolt 3 to get from that interface's 40Gbit/s to the device's claimed 2.8/2.3GB/sec read and write speeds.
According to Sammy; "The X5's read/write speeds of 2,800/2,300 MB/s are 5.2x/4.5x faster than a Portable SSD (Samsung's own T5 portable SSD) with SATA interface and 25.5x/20.9x faster than an external HDD." You can transfer a 20GB 4K UHD video from your PC to the X5 in as little as 12 seconds."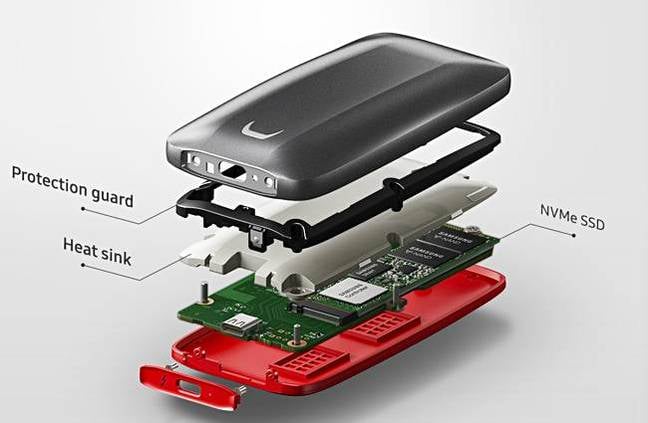 Exploded view of Samsung T5 portable SSD
The drive weighs 150gm, is shock-resistant, has an internal heat sink, and a ridged orange under-surface to reduce desktop slippage and make it more secure when held. There is optional password protection with AES 256-bit encryption, and a 3-year warranty.
Host software compatibility is with MacOS 10.12 or higher and Windows 10 Creators Update (64-bit) or higher.
This X5 is a challenge for Seagate and Western Digital with their own portable SSD products, now relegated to the slow lane. Expect me-toos to appear rapidly.
There is a 500GB X5 version, which writes data at up to 2.1GB/sec, and costs around $400. A 1TB version costs about $700 and the top-of-range 2TB version is priced at a cool $1,400 or so, 70 cents a gig.
US availability starts on Sep 3. B&F