Apple has bought a holographic glassware company, Akonia Holographics, to gain technology it can use in augmented reality products.
---
Akonia is a 6-year old company with roots that extend back to InPhase and its holographic optical disk technology. It moved on from holographic storage to displays, and has developed proprietary HoloMirror technology with which transparent glass lenses can display full-colour images with a wide field of view.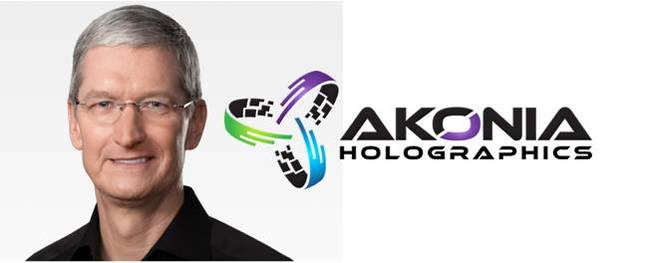 Apple CEO Tim Cook and Akonia Holographics logo
The technology involves holographic reflective and waveguide optics and having a layer of photopolymer plastic between two layers of glass.
Timeline
August 2018 – Apple buys Akonia Holographics,
November 2012 – Akonia Holographics bought some InPhase assets and its patents,
August 2012 – Akonia Holographics founded by CEO Ken Anderson, CTO Mark Ayres and Fred Askham, VP Materials Development, in Longmont, Co,
October 2011 – InPhase files for Chapter 11,
February 2010 – InPhase lays of most employees,
September 2005 – InPhase promoting idea if 300TB Holographic disk,
January 2001 – Lucent sets up InPhase operation.
Altogether InPhase raised $94m in five funding rounds. Crunchbase lists Akonia raising $11.6m in an A-round in August 2012, and that was initially intended for data storage development.
With augmented reality virtual images are interposed between the eyes and and the real world using special glasses. The Google Glass project was an early attempt at doing this.
Such images have been restricted to relatively narrow fields of view and produce washed-out colours. Akonia says its technology can produce vibrant colours and a wide field of view.
Think Magic Leap and Microsoft's HoloLens but with (relatively) normal specs.
Apple buying Akonia must seem like a dream for the Akonia execs and staff; they're in paradise and on the augmented reality front line.
Apple doesn't say how much it paid for Akonia. We expect Akonia's backers got their $11.6m back though, with maybe enough cash to buy an iPhone X thrown in as well. B&F