With annual revenues for its fiscal 2018 rising to $1.16Bn. a rise of 37 per cent year-on-year, and 10,610 customers, Nutanix is set to join Microsoft, Oracle, Red Hat and VMware as a top server system SW platform vendor.
---
Fourth fy2018 quarter revenues of $303.7m were 20.3 per cent more than a year ago, and the net loss of $87.4m deeper than last year's $66.1m loss; Nutanix' growth reckoned to be more important than profits still.
And that growth is impressive, with every quarter since the start of 2014 being a higher revenue quarter than the previous one.
The net loss for fy2018 was $297.2m, considerable better than last year's $379.6m loss. Nutanix gained 920 new customers in the quarter and existing customers spent more on repeat business. One customer ordered $20m of Nutanix product in the quarter; Nutanix' largest ever deal.
This was "with a DoD agency looking for a simple and resilient solution to power its combat edge clouds across the world [and] will power 15 remote sites running two different networks."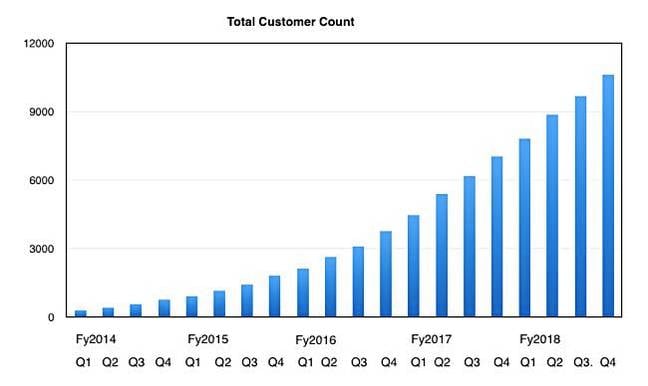 Nutanix' cash and short term investments amounted to $934.3m; no cause for concern there.
Gross margin was a healthy 75.9 per cent; more than the year-ago 61.4 per cent, as Nutanix transforms itself into a high-margin SW business. Other underlying numbers improved as well, with operating cash flow of $22.7m contrasting with the $5.9m reported a year ago. Ditto free cash flow of $6.5m compared to negative $6.5 last year.
The company has launched 12 culture principles defining how its employees work together and with customers. These will help differentiate and define the company's style.
A trio of statements from it give you an idea of what it's about;
We believe in a marathon of sprints.
We believe in long-term greed.
Creator's monomaniacal focus and energy in bringing ideas to life are not always pleasant for those close to them.
The third one has us thinking of Steve Jobs.
Earnings Call
In the earnings call CEO and chairman Dheeraj Pandey revealed that the company is focussing on transitioning to subscription-based revenues, and effectively splitting sales into two groups:
"Shorter term smaller deals in mid-market can be fulfilled by inside sales and digital delivery of software licenses. This also means that renewals of shorter term deals can be done by our inside renewals team [with] a field sales team to increasingly focus on larger customers and longer term contracts'"
Nutanix has just announced its AHV hypervisor and Enterprise Cloud OS platform hyper-converged infrastructure (HCI) offering, has met SAP's criteria for running production SAP HANA deployments; another milestone on Nutanix; march to mainstream enterprise credibility.
Nutanix Enterprise Cloud OS software is certified today for SAP NetWeaver-based landscapes including SAP S/4HANA application servers and can be used for production to scale-up SAP HANA databases.
This is part of what Pandey calls Nutanix' "continued re-platforming of the large enterprise with a broad operating system software value proposition."
+Comment
Can Nutanix join the elite four server system software vendor grouping of Microsoft, Oracle, Red Hat, VMware? Pandey expects so, saying: "We expect to achieve Red Hat-like sales by fiscal 2021." (Red Hat pulled in $2.9Bn in revenues in its fiscal 2018.)
With regard to Nutanix' 10,610 customers, Wells Fargo senior analyst Aaron Rakers points out VMware reporting ~15,000 vSAN customers exiting the July quarter; the two are not that far apart. El Reg suggests Nutanix is on track to join this group of suppliers.
Next quarter Nutanix is hoping for revenues between $295 and $310m. They were $275.6m a year ago, implying 9.8 per cent growth at the mid-point. But profitability is not being sought in the short-term, with CFO Duston Williams saying: "fiscal 2019 will clearly be a year that we trade off free cash flow and profitability in favor of extending our market leading position in superior growth at scale."
Revenue growth is Nutanix' God, not that surprising for a company that believes in greed. B&F